The Doctors offer a wide range of patient services
Women's health
Babies' growth and development
Childhood immunisations
Clinical Breast Feeding support
Mirena insertion and removal

Mental Health

Contraceptive implants and injections
Company medicals, pre-employment
Medical examinations e.g. insurance and driving
Lap band adjustments
Weight loss/gain advice
Cancer screening
Diabetes management
Psychology sessions
Sports Medicine
Men's health issues
Travel Medicine Advice and vaccinations
Registered for Yellow Fever Vaccines
Smoking cessation
Iron infusions
Electrocardiography (ECG)
24 hr ECG Holter and Blood Pressure Monitoring
Chronic Disease Management
Skin checks
Aged Care
Palliative Care
Allergy Management
Nutrition and Dietetics
Cosmetic injectables – facial wrinkle reduction and fillers
If you are sick at night, weekends or Public holidays you can contact Home Doctor Service 13SICK – 13 74 25 – for medical attention. Their website is www.homedoctor.com.au.
Details of all calls and/or visits are conveyed to us to ensure the optimum continuity of care. An alternative to this arrangement is to attend St Andrews Priority Emergency Centre on Wickham Tce, City Telephone: 07 3834 4455 or The Wesley 24-hour Priority Emergency Centre Chasley Street, Auchenflower Ph: 07 3232 7333. These services are privately billed.
Public Hospitals go straight to the Emergency Department for Queensland Children's Hospital, Royal Brisbane & Women's Adult Hospital (RBWH) or The Prince Charles Hospital (TPCH) for both Adult and Children.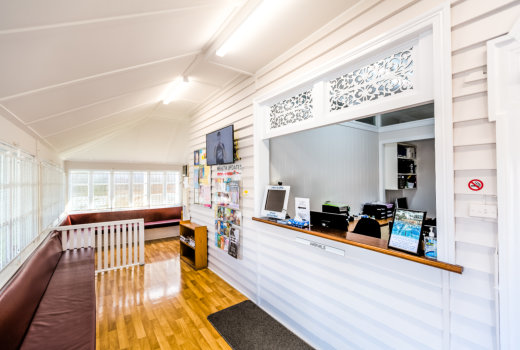 Home visits are only available if you are a regular patients of the Doctors and are too sick to come to the surgery. Every effort will be made to accommodate your choice of doctor however this will depend on the availability of doctors at the time of your request. In the event that a mutually suitable arrangement cannot be made, please take advantage of the After Hours Service – Home Doctor Service or present to the RBH, PCH, QCH, St. Andrew's or Wesley Hospitals. All home visits will be privately billed.
As the Doctors are committed to your care it is necessary for patients to make appointments in order to have prescriptions written, irrespective of whether the prescription is part of an ongoing treatment.   Please feel free to discuss this policy with your doctor if you have any concerns.